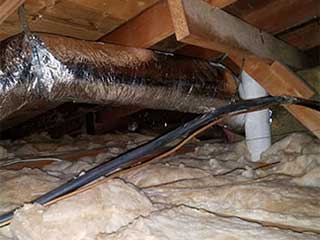 Take a Deep Breath
They might be out of sight, but whatever is circulating in the attic up above is what you are breathing in the rooms below. Whether your attic is filled with dust mites, mold or the waste from rodents or other pests, it should be cleaned out and sterilized at least once every year. So take a deep breath – is the air in your home or office full of oxygen or something more sinister?
Professional Cleaning Services for your Attic
When it comes to cleaning out your attic, we recommend you call in our experts. People rarely clean out their attics and the dust, mold and even air-born debris that develops in those dark and damp conditions can be unsafe to breathe in. When you call in our experts, we will ensure that your attic is hygienically sanitized. Not only will we leave you with a healthier home, but we will take all the dirty garbage with us.
Why Call In Expert Attic Cleaners?
Most attics are not properly sealed, floored or designed to hold human weight. The biggest obstacle to cleaning out an attic, believe it or not, is actually knowing where to step. If you put one foot wrong, you may find yourself with a hole in your ceiling or worse, you may fall through the ceiling! Our installation experts are already trained and qualified to work in your attic without causing any unwanted damage to your home or to ourselves.
Spic and Span
Our professionals don't just 'clean' your attic, though: we will sanitize it as well. We have specialist equipment to help us get into every dark corner and remove every dust mite. We are quick, professional and thorough. And because your attic is not just clean, but sanitary, unwanted pests and insects won't be attracted to make their own homes there for many months afterwards as well.
For fast and thorough professional sanitization services at an affordable price, call us today.
We also offer:
Air Duct Repair and Replacement
Crawl Space Cleaning & Repair
Commercial Attic Cleaning