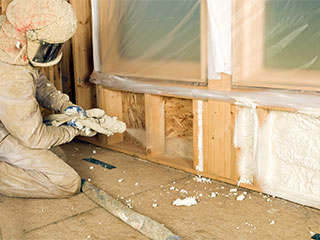 What Is Spray Foam Insulation?
Spray foam is an up and coming form of insulation that's growing more popular. Rather than cutting a sheet to the appropriate size or blowing in loose fiber, spray foam is instead applied to the area as a thin film. It then expands and grows to fill the space. It must be done carefully using face masks to avoid lung damage, and while it's effective, it must be put in precisely.
What Are The Pros?
Arguably, the best thing about it is the air tight seal it creates. While most other types of insulation can do a decent job at keeping air inside your home, there will still be cracks where it can escape, no matter how precisely cut the sheet is, or how much loose fill is used. It's a small amount of air that gets out, but it adds up over time. With the spray foam, it grows to solidify against the frame, therefore leaving no leaks. It also has a high volume of R-Value per inch, so it doesn't take much to fulfil the requirements of your area's climate. There are even types that eliminate the ability for moisture to accumulate and grow mold, as is another issue with other forms of insulation. Mold can destroy the wood of your attic and belongings, as well as the insulation itself, so it's one less thing to worry about!
What Are The Cons?
The negatives namely consist of issues that can occur if it's not applied correctly. The installer has to be careful not to put it too closely to the frame, because the foam can expand into it and break the wood from pressure. Another problem that arises is that not enough of the foam has been installed. While it does hold higher R-Value, it still has to have enough applied for it to work properly. Also, if the installer doesn't ensure that the seal is created, there may still be a small gap between the insulation and the frame, leaving you with the same issue as the other types. There has to be enough of the foam to press solidly to the frame, without going so far as to break it. That's why it's a good idea to let the professionals handle it!