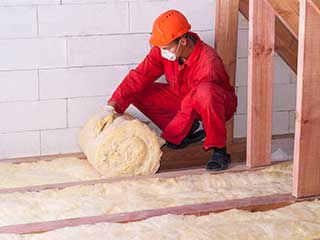 Why Does Your Insulation Matter?
Without insulation in your attic, your energy bill would be worse than it already seems to be! Air would easily be able to escape outside, rather than be trapped in to circulate and keep the temperature steady. As a result, your air conditioning and heater would have to run far more to keep up, and the energy spending would be monstrous.
However, if you've been noticing that the amount of energy being used has been rising, damage to your attic's insulation may be the problem.
What Can Happen To It?
There are many things that can go wrong with your attic's insulation, unfortunately. Aging can be an issue, as over the years it will degrade and begin to shift out of place, which leaves behind cold spots.
Pests are another huge factor. If rodents have been skittering around your attic, chances are they've been digging at your insulation to use for nesting. This drastically lowers its integrity and usefulness.
Water leaking into your attic also poses a risk, as not only can it harm the insulation, but it can cause mold to grow and spread elsewhere. This mold will eat away at wood and belongings stored in there, so it's best to get it all taken care of!
That's Where We Come In!
Our experts are happy to come out and assist you with whatever the problem may be. If any of the aforementioned issues have occurred, we can carefully remove the damaged insulation. We'll make sure no particles get into your home's air to pollute it, and get it safely disposed of. Then, we can install whatever type best suits your needs, no problem!
We can also add additional insulation to what's there already to better combat the climate of your area, or simply install it into that brand-new attic for you.
Why Put It Off?
It's time to ensure your energy bill is as low as it can be, and call Attic Cleaning Beverly Hills today! Be sure to take full advantage of our professional cleaning and decontamination services as well.
In addition, count on us for:
Radient Barrier Installation
Crawl Space Waterproofing