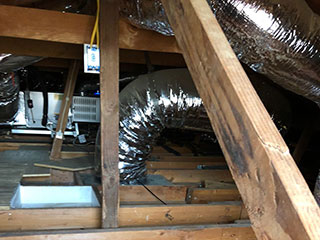 The crawl spaces in homes and businesses as well tend to often be ignored, but this can lead to trouble with the pipes and wires that tend to run through the area! Our professionals can help keep the area clean and free from pests and mold.
We'll Clean It Right Away
You'd be surprised, and probably a little disgusted, to learn just how much debris can build up in your crawl space over time if it isn't regularly cleaned. Wood may be rotting and falling apart, pests may have gotten trapped inside and died or left waste, and other issues that are best taken care of as soon as possible. Otherwise, problems may only increase with more pests being enticed in by how messy it is, or mold growing thanks to the moisture. We use the best tools available and careful planning to completely clear out your crawl space of any unwanted materials so it's clean and much safer overall.
Decontamination Is Important
If pests have been making themselves at home in your crawl space, it's an extremely good idea to get it decontaminated as well as cleaned. While a cleaning will get rid of all the physical mess, bacteria may still linger due to animal waste or decomposition. During the hot summer months, air will rise up into your home and can bring these diseases with it, but we use a special sterilizing spray to completely eradicate it so you won't have to worry.
Rodent Removal Is No Problem
Rodents can cause all sorts of damages if they're living in your crawl space, from chewing through wires to gnawing on the wood structures that compose it. Our experts use traps to catch the rodents and safely remove them from the home without needing to use unsafe poison. Your crawl space will be free from pests in the most humane way possible!
Get Your Appointment Scheduled Now
Call Attic Cleaning Beverly Hills today to find out how we can get your crawl space fresh and clean again in no time at all!