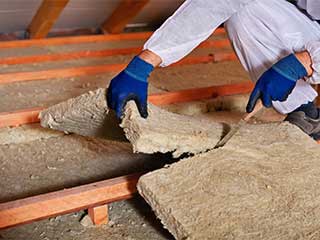 Why Is Your Insulation Important?
The insulation in your home, particularly in your attic, works to keep your home's temperature stable. It keeps air from escaping outside as it would without something stopping it, and instead keeps the air circulating inside your house. Rather than your air conditioning or heating running continuously, they merely have to run every now and then thanks to this process. In this way, it keeps your energy costs far lower than they would be otherwise! So, what problems might arise that requires the help of a technician?
Damage To Your Attic's Insulation

There are many factors that can lower the effectiveness of your attic's insulation and cause your energy spending to rise with the fluctuating temperature of your home. Water may leak in and not only wreck it, but cause mold to grow in it as well. This can easily spread and cause even further harm to your attic as a whole. Pests can also chew and dig at it, making holes and ruining it. When any of these things occur, it's best to have a professional safely remove all of it, as they can ensure that no particles can pollute the air of your home.

Installing Fresh Insulation

Whether you've had damaged insulation removed and need it replaced, or simply have a new attic being built, sometimes it's necessary to have fresh material installed. You may not know where to even begin when it comes to deciding what type would be best for your attic, from fiberglass to spray foam, or how much is needed to properly combat your area's climate. Experts can help you sort out all of these troubles, as well as get the insulation put in securely so it does its job well. If it's not installed right, it may not be doing your home any good, and you'll be wasting energy!

Needing Commercial Services

Your place of work may also need its insulation tended to over time to guarantee that the building isn't eating through far too much energy trying to keep the workplace comfortable. However, you also don't want a big distraction for long, as that won't help work flow either. Hiring professionals who are skilled and have high-quality tools usually assures that the job will be done thoroughly, but quickly as well.